Scaling
your business can be hard, but it doesn't have to be
Reduce mistakes and improve efficiencies with customized training
Get Started
Enable
growth
through employee engagement and training
Where training equals Scalability
Get Started
We can help you document and implement repeatable processes to scale your business
Get Started
Minimize Mistakes
Align expectations to your new reality with referenceable training materials, defined processes and procedures, and custom, curated content.
Increase Productivity
Whether your goal is to ramp new hires faster or protect managers' time, we have learning solutions to save you time and money.
Prepare for Growth
We can help you create repeatable, scalable processes to enable empowered employee problem-solving and sustainable company growth.
What Scalability Can Build for You
We customize our deliverables to your needs, but here are a few
examples of deliverables that can take your teams to the next level.
Wouldn't it be nice if you could...
Increase Productivity
Training is the best way to help employees do their best and get more done.
Reduce Attrition
Engage your employees with role-specific training, ongoing development, or leadership training and see your turnover turnaround.
Improve Efficiencies
Streamline processes, enable employees, and keep your forward momentum.
Minimize Mistakes
Don't let mistakes cost you time, customers, or money—train your teams.
Ramp New Hires Faster
Streamlined training for new hires allows employees to ramp faster AND reduces managers' time and effort.
Prepare for Growth
Enabling your organization's growth starts with repeatable, scalable processes.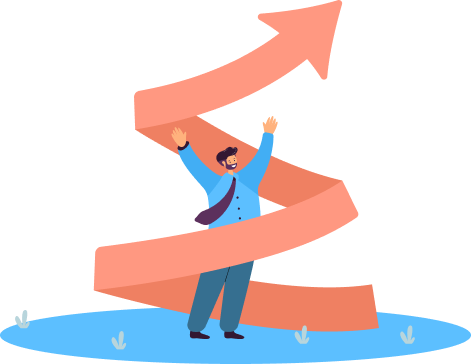 Want more? See our materials in action by checking out our client case studies. We'll walk you through the client's challenge, our solution, and the end results.
Sales Training
The Result
Reduced ramp period from 1 year to 3 months
Refocused sale rep efforts on tasks that lead to closes
Closed full-service deals within 3 months of training
Read More
"The Scalability team really helped me connect all of my different departments and return their focus to where it matters most — the customer experience. The team was so easy to work with and I was able to get high-quality materials in exchange for only a few hours of my time. I would highly recommend them to any company who needs help getting their people to work together."
David Andersen, CEO, Synoptix
"I had all these ideas I wanted to implement, but my biggest problem was just knowing how to start. Scalability sat down with me, asked all the right questions, and turned my ideas into something even bigger than I expected. Then they created all the processes and documentation to turn that idea into real practice."
Justin Briggs, CEO, Briggs Roofing Company
"I cannot say enough about how awesome it was to work with Scalability. They created training modules for both our SDR team and our AE team that covered product knowledge, technical skills, and sales skills. I use these materials to ramp new hires and to continue upskilling the whole team. They are loving the content, and there is something there for everyone. I would encourage anyone that is looking for expert consulting to give Scalability a chance and watch the results. This has been a game-changer for my team, and I look forward to continuing to use it and seeing the success."
JP Neilson, Sales Manager, Advice Media
"Our new operations manuals make installation and troubleshooting simple for our users, which means less strain on our customer support department and more satisfied customers. Scalability's dedication to quality helped us get every technical detail right, so we can feel confident that our customers are receiving the most accurate, helpful instructions."
Mike Petersen, CEO, Spire Ranges